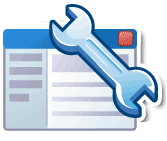 It was an incredibly busy month in the Google SEO/Webmaster world. Besides for Google announcing the spam algorithm, explaining about Panda's slower rollouts, releasing a new mobile ranking factor and pushing out a multi-week update, we've also seen a ton of chatter around a few updates in the past 30 days.
In fact, with this multi-week update, all the Google volatility tools are lighting up over the past few days. Here are screen shots from them:
Mozcast has been really hot for the past several days, which is not the norm:
SERPs.com is showing more volatility than normal over the past days:
SERP Metrics also is warmer than the average day recently:
A new tracker, Algoroo, also shows hot patterns recently:
But the main thing is that the ongoing WebmasterWorld thread does indeed have chatter. It is holiday weekend and pre-holiday weekend chatter but nevertheless, SEOs and webmasters feel something is going on. One webmaster said:
There's definitely a lot of flux, and it's in the head terms. We're seeing a significant amount of one to three position drops. Luckily visits and sales are mostly unaffected, thanks to long-tails.
So maybe that multi-week update has settled down as promised. I just wish Google would tell us more about it.
For the rest of the more important topics over the past 30 days:
Google Algorithms:
Google SEO:Google Webmaster ToolsLinks & Disavow:User Interface:
If you missed last month's recap, read the June 2013 Google Webmaster Report.
Forum discussion at WebmasterWorld.