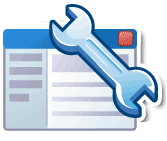 There is a confirmed new bug with Google Webmaster Tools where the dashboard wont load for some webmasters.
If you are an SEO or webmaster with a large number of sites in your Google Webmaster Tools account, the sites might not load.
Google said:
The main Webmaster Tools Dashboard is currently not being shown for some accounts that have a large number of websites verified.
I am not sure what number of verified sites you have to reach to hit this bug. I have some accounts tons of verified sites and the dashboard works for me.
Google did share a work around:
As a workaround, you can access one of your site's dashboards by going to the URL directly (please replace "example.com" with the URL of a site verified in your account):

https://www.google.com/webmasters/tools/dashboard?hl=en&siteUrl=http://example.com/

From there, you will be able to use the dropdown in the top-right corner to navigate to the other sites in your account.
Forum discussion at Google Webmaster Help.
The work around