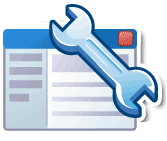 A week ago, Google revamped their Webmaster Tools Crawl Errors user interfaces and reporting. It led many asking, how do I get the detailed reports I am use to getting?
Over the weekend, Vanessa Fox posted a detailed story on Search Engine Land detailing how to get the data via the API.
The API can give you a lot more detail in terms of crawl errors versus what you see in Google Webmaster Tools.
Vanessa explained:
The data is a little tricky to get to and the specifics of what's available varies based on how you retrieve it. Two different types of files are available that provide detail about crawl errors:

A download of eight CSV files, one of which is a list of all crawl errors
A crawl errors feed, which enables you to programatically fetch 25 errors at a time
Google's John Mueller shared this on his Google+ page saying, "If you're a website metrics geek and love creating scripts to crunch larger sets of numbers, then check out Vanessa's post on how to get more insights on crawl errors out of Webmaster Tools."
Forum discussion at Google+.